We actually found and researched the best thermal cameras under 200$, a price point that in this market is very low and the good news is that there are solid options, whether they are smartphone attachments or handheld devices

In our review and comparison table we look at every aspect from image quality, software features and thermal measurement performance.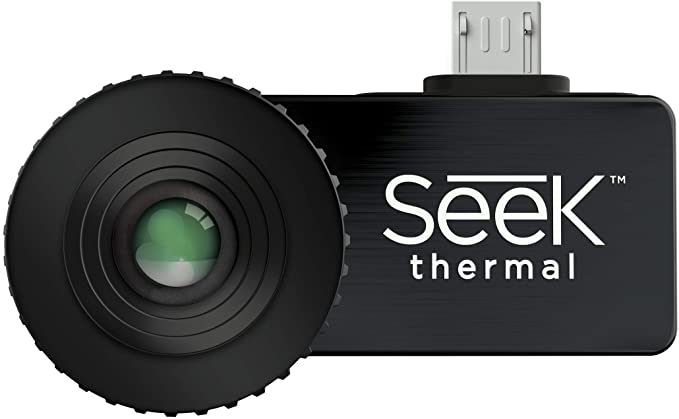 Let's have a look at each product in particular.
FLIR ONE Gen 3
| Product | Type | Resolution | Battery capacity | Waterproof | LCD screen | Price |
| --- | --- | --- | --- | --- | --- | --- |
| FLIR ONE Gen 3 | Smartphone (2 different versions – Android & iOS) | 80 x 60 | 45 minutes | No | No | Click for more info |
The Flir One Gen 3 is the first thermal camera that costs under 200$ which we will be reviewing.
It is a smartphone thermal imager that comes with an infrared sensor, a visual camera and a built-in 350mah battery which charges separately via a USB-C cable included in the package. For the rest of the functions, it uses your phone's screen, internal storage and connectivity. That's how it manages to provide a sensor with the same resolution as pro thermal imaging cameras like the Flir E4 but for such a low price.
You get a choice of three connectors with this cheap thermal imaging camera, but you have to make that before you buy the device because they are not interchangeable. The choices are micro USB and USB Type-C for Android and Lightning for iPhone and iPad.
The thermal images look very sharp and detailed. The hot spots and cold ones are clearly visible despite the lower than average IR resolution and that is thanks to its MSX image enhancement that Flir has been continuously developing. When you put together thermal images from different infrared cameras with the same thermal resolution, you will immediately notice the advantages of MSX. If you want the same device but with a higher resolution, then you should opt for the Flir one pro thermal imager which has the same resolution as the high-end cameras like the Flir C5.
It can capture images in JPG format and also record videos and time lapse in MP4 for Android smartphones or Mov for iPhones. The images also record the thermal data for each pixel(Radiometric), while the videos do not. This means that you can later measure the temperature in any part of the thermal image, change the color palette if you don't like it and also change the thresholds and temperature scale.
This infrared thermal imaging system is perfect for your basic HVAC inspection, electrical inspection, roofing or plumbing. You can find anything that overheats, even though its temperature measurement range is narrower than we would like it, just from -20 to 120 Celsius.
You get a 2 year warranty for the entire device and 10 years for the infrared sensor if you complete the product registration form.
This camera is not always under 200 USD and it depends at which point you check Amazon for prices, but you should be able to find it somewhere around that price mark. And if you consider the fact that you get the same 80 x 60 pixels resolution that you get on a flir C3 or Flir C2 Compact thermal imaging camera, it really is good value.
Flir also makes spot thermal cameras like the Flir TG130, Flir TG165 and Flir TG167.
Seek Thermal Compact
The Seek Thermal Compact is the Flir One's direct competitor for the title of best thermal camera under 200 USD.
It is the same form factor, it comes with a micro USB, USB-C or Lightning connector. The image resolution that comes from the thermal sensor however is much higher at 206 x 165 pixels and the temperature range that it can measure is also wider between -40 -> 626 ° Fahrenheit (-40 to 330° C).
This compact thermal imaging camera also has a finer thermal sensitivity of 0.07 °C. The distance at which heat detection works is up to 1000 feet and you need to know that this is a major feature, something you only get on the more expensive Seek Reveal Thermal Camera (If you need to measure even further, the Seek Thermal CompactPro can go up to 1800 feet).
While the approach is similar to the Flir, there are 2 key differences: It uses the smartphone's battery and also its visual camera. Because the visible light camera and IR sensor will be so far apart, you can easily tap the screen in the app and align them. You can get a side-by-side view of the two images.
The image enhancement is not as good as the MSX from Flir Systems, but it compensates with the higher resolution.
Then there is the app: It can capture photos, record videos, it has all the settings you would expect from 9 color palettes, display the warmest point and coldest point in the image, so pretty much everything that you normally find on thermal imaging cameras.
One important feature is that it also stores the radiometric data for each pixel in the TIFF photos.
It also comes with a waterproof carrying case in the package but the device itself is not waterproof.
Hti HT-02D
The Hti HT-02D is a different kind of device than the first two, in that it is a handheld thermal camera under 200 dollars.
It has both an infrared sensor, a visual camera and also an LED light.
The thermal vision sensor has a lower resolution, 32 x 32 totaling 1024 pixels. Its thermal scope varies from -4°F to 572°F (-20°C to 300°C). Its thermal sensitivity is not as good either because there needs to be a 0.30° C temperature difference for it to trigger a difference in temperature measurement. The refresh rate is lower at 6Hz and it can only measure the temperature in the center spot.
But it makes up for its shortcomings with a 6-hour battery life and a micro SD card slot with a 4GB card included. This inexpensive thermal camera has a color display screen mounted on it with a 2.4″ screen size and it has no connectivity whatsoever, not even by USB cable.
It also has a very low price, because it is one of the cheapest handheld thermal cameras you can buy.
PerfectPrime IR0002
The PerfectPrime IR0002 is also a handheld thermal camera that costs under 200 USD but with some higher specs than the Hti HT-02D. In terms of esthetics it is very similar to the Hti, but the design features are slightly better on the IR0002.
First, its thermal resolution is higher at 60 x 60 with 3600 pixels in total, its temperature range is wider, so that you can measure hot spots and cold spots from -4°F to 572 degrees Fahrenheit (-20°C to 400°C) and its sensitivity is better at 0.15°C.
Like the Hti, it also has an SD Card slot and a 6-hour battery life but with this device, you have to put in 4 AA batteries, so you need to consider buying rechargeable ones together with a battery charger.
This infrared thermal imaging camera's refresh rate is low as well with a 6Hz frame rate, but then Hti and PerfectPrime share several common devices and software with only the branding and a few small features being different.
This IR thermal imager also has a combination of visual camera and infrared sensor but the image quality is much better because you get 3 times more pixels.
For a 200$ budget, this is a good product because the choice of IR cameras available under 200$ is not very large. The same manufacturer also makes other budget thermal cameras like the Perfect Prime IR0001 and IR0005.
Best thermal cameras under 300$
If you just increased your budget, you can access the following devices:


Huepar HTi80P, a cool pocket thermal camera with 80 x 60 resolution


Seek Thermal CompactXR – A version of the Compact with extended range


PerfectPrime IR0280 – A handheld thermal imager with great ratings


Best thermal cameras under 100$
There are none. At this point, thermal imaging is still more expensive and has yet to become a real commodity. In 5 years from now, devices under 100 dollars will appear and we can expect a sub-100 USD device to be a smartphone attachment. But for now there is one around the 130$ mark which at least qualifies as a budget thermal camera under 150$.


PerfectPrime IR0102 – A smartphone thermal imager with 32 x 32 resolution. Would we buy it? No. We would go for the Flir or Seek Compact. It might be the cheapest thermal camera ever made, however it offers much less than a Seek Compact for not much less the cost.


Now the prices that we mentioned might vary and that is why it is best to check prices on Amazon, however we do not expect any large discrepancies.