Here are the 4 best thermal cameras for electrical inspections that you can use as a professional

Provided that you are an electrician or you have to find faults and troubleshoot electrical devices on a day-to-day basis, these devices are solid choices to help you detect issues much faster and more precise, eliminating guesswork

Here is our review and comparison table of the 4 best thermal cameras for electrical inspectors: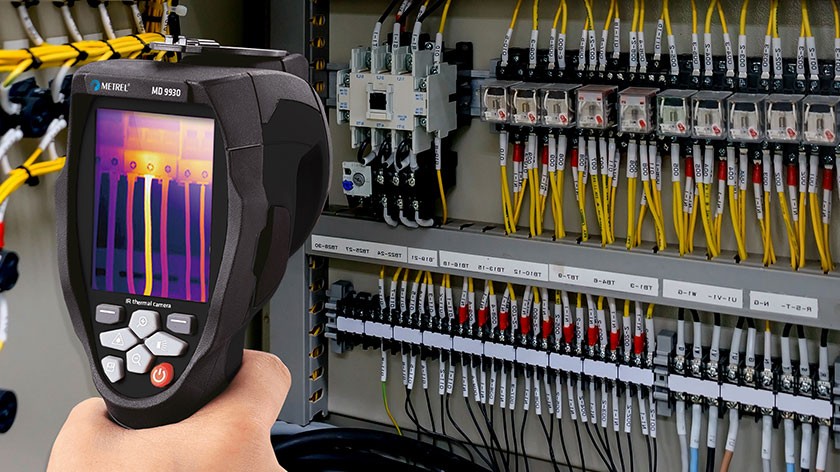 Let's have a look at each product in particular.
FLIR E8 XT
The Flir E8-XT is a perfect thermal camera for electrical inspections. It is the top of the line in Flir's XT professional infrared camera line-up.
With a 320 x 240 pixel thermal resolution, this infrared thermal imaging system allows you to spot even the smallest details in your image, allowing you to clearly detect which fuses are overheating in an electrical panel at a simple glance. Because it can clearly see through dry wall, you can easily spot if the wiring is overheating in any part of the electrical system. And to display the high-quality thermal images it uses a larger 3″ LCD screen.
With this camera you can just take a snapshot of an electrical panel and it will tell you a lot about the state of its components, supercharging your productivity in some cases.
Flir's XT abbrevation stands for Extended Temperature range and this camera can measure any temperature between -4°F and +1022°F (- 20 and 550 C) with a 0.05°C thermal sensitivity and a +/- 2 C accuracy. These are near-perfect numbers for a thermal camera, it is as good as it can get.
The camera has USB, Wi-fi and Bluetooth connectivity, so you can tether it to your smartphone and send the captured images or stream the measured temperature. Together with the Flir tools desktop software, you can create instant PDF thermal reports and share them.
It is completely waterproof and dustproof with an IP54 rated enclosure and it will even survive a 2 meter drop and continue to function. Then there is the issue of battery life and here its rechargeable battery offers 4 hours of continuous thermal imaging.
All of these aspects make it one of the best thermal imaging cameras for electrical inspections and for home inspectors in general. Now the cost of this IR Camera is high, but there are other cameras which are part of the same line of products that cost less, like the Flir E4, E5 and E6.
FLIR TG267
The Flir TG267 is another great thermal camera for electricians and electrical inspections.
It is similar to the E8-XT especially in form factor, but with a lower IR resolution of 160 x 120 and a much lower price. It actually has the same resolution as the Flir DM284 digital multimeter (This device is part of Flir's line of digital multimeters which have a thermal sensor and IR thermometer). But because this device also has MSX technology, the infrared image is greatly improved by overlapping it with the one from the digital camera. The temperature measurement accuracy is +/-3°C and its thermal sensitivity is slightly higher at 0.07°C, while the thermal scope ranges from -13° to 716° degrees Fahrenheit(-25°C to 380°C).
This camera is just as good at inspecting electric circuits and wires to check if any parts of them might be deffective or overheating. You can find areas of high resistance or where there is excessive current flow. You get a selection of color palettes to choose from, you can switch between fahrenheit and celsius
There is a considerable price difference between these two devices and the Flir TG267 thermal camera is probably 75% cheaper, so you need to take that into consideration. This particular compact thermal imaging camera was actually designed to be used by building inspectors especially in HVAC. It is the only one which comes with a K-Probe so that you can measure the temperature in harder to reach places, making it the perfect camera for home inspections and building inspections in general.
If this model happens to be outside of your budget, there is also a budget thermal camera from Flir called the Flir TG165 spot thermal imaging camera.
FLIR C5
Although it doesn't have the same high thermal resolution as the other thermal cameras for electrical inspections listed here, the Flir C5 is just too good of a thermal camera to ignore it. The C5 is a different form factor, it doesn't look like an infrared thermometer but more like a pocket digital camera.
Its infrared sensor can output a 160 x 120 thermal image, but it has the 5 megapixel visible light camera and when you put them together with MSX image enhancement, the thermal image looks sharp and detailed.
This pocket thermal camera can record video and capture photos and you operate the entire camera right from its 3.5″ touchscreen. Then there are the 3 connectivity options: USB-C, Wi-fi and Bluetooth. The camera uses its wi-fi connectivity to automatically upload the captured images to Flir's new cloud platform called Flir Ignite.
As a customer, you get 1GB of free storage because you purchased the C5. This can be very useful for professionals because you can easily organize your thermal reports on the spot and don't have to waste time downloading them. You can also share them with your customer very quickly.
The entire infrared thermal imaging camera is IP54 rated, waterproof and dustproof.
You can use the Flir C5 to spot fuses that are overheating, but also switch contacts and connectors. The best moment to check is when the load on the electrical system is higher because the higher the load, the more heat the components will be generating and thus they will be more visible in the thermal image.
The Flir C5 is the succesor to the two very successful handheld thermal cameras, the Flir C2 and the Flir C3.
Hti HT-301
| Product | Type | Resolution | Battery capacity | Waterproof | LCD screen | Price |
| --- | --- | --- | --- | --- | --- | --- |
| Hti HT-301 | Smartphone | 384 x 288 | Uses Phone Battery | No | Uses Smartphone screen | Click for more info |
The Hti HT-301 has an infrared sensor that outputs a 384 x 288 image resolution, making it the camera with the highest amount of detail in our review. Whereas with other cameras you can tell you are looking at blurry heat signatures and hot spots, with this one the images look like they came from a digital camera. The pictures are sharp and detailed and at night it can really function like a night vision device. This is something you can check out on youtube where actual owners of this infrared ir thermal imager have posted videos.
People have been using this to inspect and troubleshoot electrical circuit boards, that's how detailed the thermal image is. You can spot an overloaded circuit or see where the board emits a large amount of heat. Of course, it can also be used in diagnosing electrical issues, HVAC inspections, plumbing, roof inspections or automotive diagnostics.
It doesn't have a visible light camera for image enhancement and it is not needed at this resolution. This is a smartphone thermal imaging system, basically an infrared sensor and a USB-C connector (You also get a micro USB adapter in the package). You plug it into your phone, download the ThermViewer app and you are ready to capture thermal images and record video.
If you want a device that also has a smartphone thermal camera attachment that also has MSX, then you need to look at the Flir One Pro, but bear in mind that it has a lower sensor resolution. If you want something in between, with a high resolution and have the thermal layer overlapped with the visible light image, then you should look at the Seek Thermal CompactPro.
With this particular thermal camera, you can measure anything in a temperature range from -4° to 752° Fahrenheit (-20 ° to +400 ° Celsius) . The thermal vision sensor can also react to a temperature difference of 0.06 C.
One of the best things about it is that it has a 25Hz refresh rate which makes for very smooth video recording.
Which thermal camera is best for electrical inspections?

Provided you are a professional and you want to take your inspections to the next level, then the Flir E8-XT is the professional tool that you want and The E6-XT is also a great option.

If they are over your budget, then the Flir C5 is one of the best options because of its many features and versatility, but note that the thermal resolution is lower.

The Hti-301 can be a good tool for inspecting electrical boards like PCB boards and chips. Its main strength is in the thermal resolution so if you have applications that require that, it can be a good option. The price of the HT-301 is very similar to the one of the C5.