If you need a thermal camera with high accuracy, you'll be happy to find out we did the research for you and compiled a list of 5 thermal cameras that have a high temperature measurement accuracy. But we are not going to limit ourselves to just that, we're looking at image resolution, battery life, how easy they are to use and much more

All of the cameras that we recommend here have gotten great user reviews throughout the years. Here is our list of the 5 best thermal cameras with high accuracy: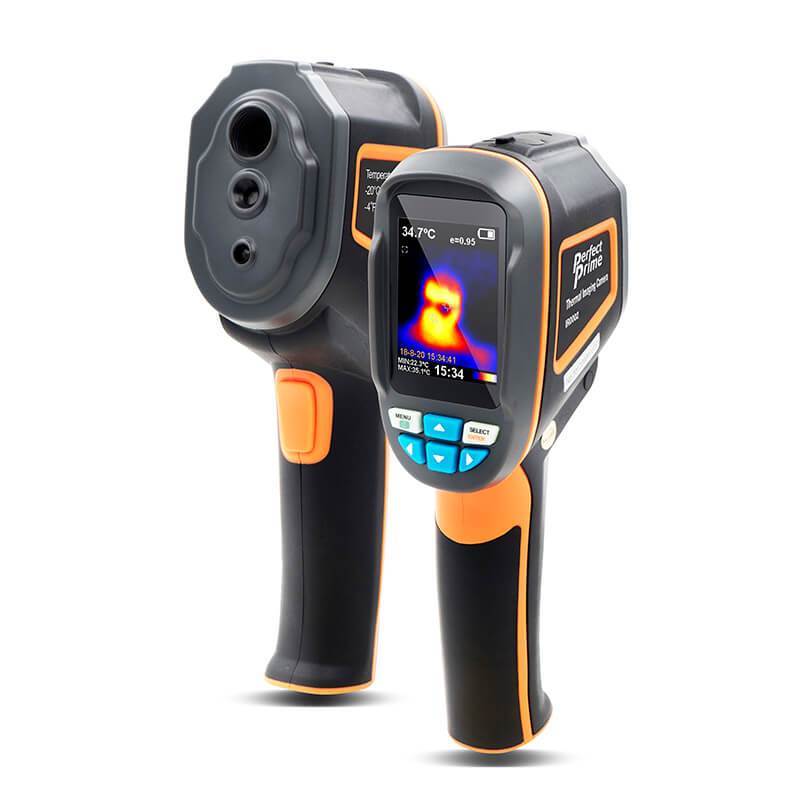 Let's have a look at each product in particular.
FLIR TG165
The Flir TG165 is a thermal camera with high accuracy that has proven to be one of the most succesful cameras Flir Systems has ever produced.
Its thermal sensor has a +/-1.5° C temperature measurement accuracy. To get a perspective on things, more than 50% of infrared cameras offer an accuracy of about +/-3° C. At this price point, this is the device with the highest accuracy in spotting the temperature difference that you can get. For some who are new to the field, it may seem that it is inaccurate but this value is as reliable as you will find on consumer thermal cameras.
But the good news don't stop there because it also has wide temperature range varying from -13 ->716°F( -25 to 380 C) and a 0.15 C thermal sensitivity meaning you can use it in the cold environments as well as extremely hot ones.
One downside is that it doesn't have a visual camera, so you don't get the benefit of the MSX image enhancement system. But it does compensate with other features like its 8-hour battery life. That is double the amount of what you get with the thermal imaging cameras in this article and in terms of internal memory, unlike most Flir models, this specific one has an SD Card slot.
This is the only camera here that has a laser pointer and it is a useful thing to have because it shows you exactly which point you are measuring. The start-up time is also much faster than on other cameras we have reviewed. It is not a radiometric model, so it doesn't store thermal data in the pictures it captures.
So, where can you use this? All HVAC inspectors should have at least one of these in their toolbox because they can diagnose heaters and AC units much faster and easier. You can also use it for plumbing to check for water leaks and high moisture levels. It can be used in electrical inspections to check on fuses that are overheating or find if the wiring is getting hot in any part.
As with all Flir cameras, it has a 2-year warranty for the entire device and a 10-year warranty for the thermal vision sensor.
PerfectPrime IR0002
The PerfectPrime IR0002 is a low cost handheld thermal camera with high accuracy.
This device has a 60 x 60 accurate sensor with a thermal accuracy of +/-2°C, not as good as the TG165 but it still fares well against most thermal cameras.
The difference is that this particular device also has a visible light camera for image enhancement, granted the algorithm that overlaps the images does not perform as well as Flir's MSX.
It also has an SD Card slot and a 6-hour battery life from the 4 AA Batteries it uses and its temperature range spans between -4°F to 572°F (-20°C to 400°C).
One of the downsides of this camera is that it only has a 6Hz refresh rate. But given that it costs more than 30% less, this compact thermal imaging camera provides good value.
PerfectPrime IR0018
Then there is the PerfectPrime IR0018, a thermal camera with high accuracy that provides a higher IR resolution.
But thermal imaging accuracy is what is important here, because we're looking for a camera with accurate measurement. It has an accuracy of +/- 2 °C. The range of temperature that this infrared thermal imaging system can measure is between 4 -> 572° Fahrenheit( -15.5 to 300 Celsius).
Its infrared sensor outputs a thermal resolution of 220 x 160, totaling 35,200 pixels. Even though it costs more than the first two, this is actually a low-cost camera given its image resolution.
It has an SD Card slot for expandable internal memory and a USB port so you can download the image via the micro USB cable provided in the package to your computer.
It has all the basic settings you would expect from an infrared camera including emissivity and ambient temperature, both of which can increase the temperature accuracy if set correctly. If you measure shinier materials using a high emissivity you'll decrease the camera accuracy.
The downside to this particular camera is that the images are noisy, especially when you use it as a night vision device. But we found it to be usable to find warm areas, it displays two dynamic points on the screen showing you the coldest and the warmest spots in the image.
FLIR E5 Compact
The Flir E5 is the most advanced thermal camera with high accuracy that we are reviewing here.
The infrared sensor has a thermal accuracy of +/-2 C with a thermal sensitivity of 0.10°C, which makes it usable for temperature screening and monitoring.
It is worth noting that this is a professional camera that costs 3 times as much as the IR0002, but also delivers on its promises. The infrared sensor has a 120 x 90 resolution backed up by a visual camera using the MSX technology. The result is astounding because the level of details beats out all the other cameras here.
It also has USB and Wi-fi connectivity so you can connect it to your Smartphone. One of the only downsides is that it doesn't have an IP54 rating, so it is not waterproof.
FLIR ONE Pro
| Product | Type | Resolution | Battery capacity | Waterproof | LCD screen | Price |
| --- | --- | --- | --- | --- | --- | --- |
| FLIR ONE Pro | Smartphone (2 different versions – Android & iOS) | 160 x 120 | 45 minutes | No | Uses Smartphone screen | Click for more info |
The Flir One Pro is not exactly a high accuracy thermal camera, but it made our list because it is the best one in its category in terms of accuracy.
It has a +/-3 C sensor accuracy, so it is not the most precise of all thermal cameras. It comes in 3 versions with a micro USB, USB-C for Android and Lightning for iPhone. The device has both a visual camera and an infrared sensor and Flir have also managed to squeeze in a 350mah battery in that small enclosure that works poorly, has to charge separately and only works for 45 minutes.
The image quality is great and the camera captures photos, records video and time lapse. In the case of the photos, they store radiometric thermal data for every pixel.
The app is the best that we've seen on any smartphone thermal imager, it is easy to use, you get a choice of several color palettes which are actually useful and functionally different and has all the features you need.
The warranty on this device is 2 years and 10 years for the infrared sensor if you complete product registration on their website.
Which camera with high accuracy should I buy?
If you need a great all-round camera with high accuracy and good value, then the Flir TG165 is the right one for you.

If you are on a tight budget and precision is important, the PerfectPrime IR0002 is a good choice. If you need more resolution, then the IR0018 should be your choice.

If you need a professional camera, the Flir E5 is a solid choice.

And if you need high precision in a smartphone thermal imager, then the Flir One Pro is probably your best choice.


Are thermal cameras accurate?
This depends on the application and the camera. The average infrared camera will have a 1.5° to 3° accuracy, which means that if the temperature of the object is 30°, then a thermal camera with a 1.5° accuracy will display a value between 28.5° and 31.5°. Each camera has its own temperature range so the closer you are to the middle, usually the better it works, just like with thermometers. So accuracy will be higher or lower across the range.

A well calibrated thermometer will generally be more accurate but the purpose of these devices is not to substitute a thermometer but to give you a different perspective on how the object is emitting heat, one that you could not have until now. One of the most frequent use cases in 2020 has been fever detection and while the infrared camera can certainly provide some evidence of fever, a thermometer that is designed to measure body temperature is a better tool to use.


How can I improve the accuracy of my thermal camera?
There are some parameters you can adjust: the emissivity and the ambient temperature. By manually telling the camera what the temperature is and correctly setting the emissivity (Just google "emissivity table materials" and you'll find the right value for each type of material you are measuring) you can certainly improve its accuracy.