If you are looking for a thermal camera with a 32 x 32 infrared resolution, there are just about 5-6 devices to choose from. Even so, we selected 3 of them which are worth considering and provide good value at their price points

Here are our 3 favorite 32 x 32 thermal cameras: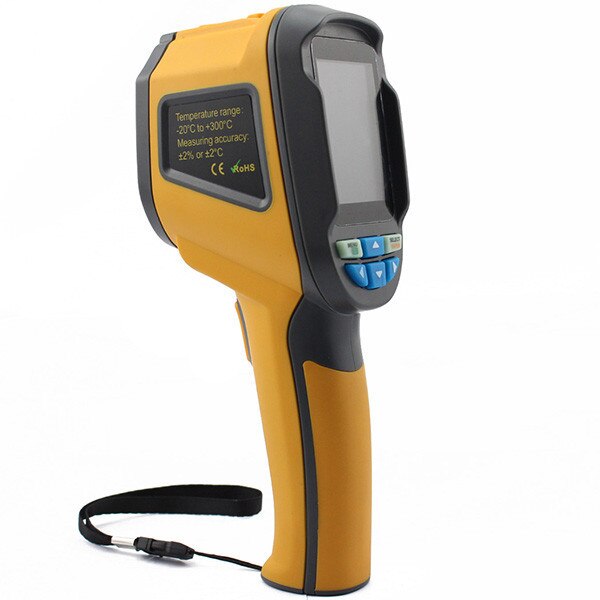 Let's have a look at each product in particular.
Hti HT-02D
The Hti HT-02D is our first 32 x 32 thermal camera that we will be reviewing. This is a handheld thermal imaging camera that costs under 200$, so you have to take its price into consideration when looking at what it can do.
For this budget, Hti have included a visual camera and an infrared sensor with the 32 x 32 thermal resolution and also an LED light. So even though it is low resolution, the blending of the visibile light image with the thermal image is going to make up for that to an extent.
The camera has a temperature range between -4°F to 572°F (-20°C to 300°C) which considering the price, is quite good. The accuracy is great as well with a +/-2°C temperature measurement accuracy.
Where the low-cost shows is in thermal sensitivity where its detection capabilities lack, because it can only react to a temperature difference of 0.3°C, making it less viable for temperature screening and monitoring. Other thermal imaging cameras featured here have a sensitivity of 0.15. The refresh rate is not spectacular either with a 6Hz frame rate.
But what about the practicality? In terms of memory, it has a micro SD card slot and you get a 4GB memory card included in the package. There is no USB port to download your images via USB cable, so you need to remove the memory card and place it in a card reader. The battery exceeds expectations though because the HT-02D has a 6-hour battery life.
It can only measure the temperature in the center spot, so no dynamic points showing you the hottest and the coldest areas and the captured images don't store any kind of radiometric thermal data in them.
But apart from its downsides, considering that this is a sub-200$ device it actually offers quite a lot, making it good value for money.
PerfectPrime IR0001
The PerfectPrime IR0001 is another 32 x 32 thermal camera that is in many ways almost identical to the Hti because these 2 brands actually have a few devices in common. You can tell because the design and the software are almost identical.
It has the same infrared resolution of exactly 32 by 32 pixels together with image enhancement that combines the thermal vision and the visible light camera and it also has an SD card slot without the option of USB connectivity.
The settings menu is similar in the idea that you can adjust how much overlay you want (25%, 50%, 75%), you can choose between 4 color palettes, change the emissivity and ambient temperature together with the measurement unit (Fahrenheit or Celsius).
But it does cost 50% more than the HTI HT-02D, so you need to take that into account before purchasing it.
Will this compact thermal imaging camera work in basic applications like HVAC inspections, Electrical inspections or plumbing? Yes. Can you find electrical fuses in your house that overheat? Yes. Will it be as easy to spot the issues as with the high-end Flir Systems cameras or Seek Thermal? No. The images are not going to be as detailed so you'll need to approach it from different angles and spend a little more time. Given, you will be able to easily find the warmest spots or highlight the areas which are warm.
The device comes with a 2-year warranty as standard.
PerfectPrime IR0102
The PerfectPrime IR0102 is an different proposition for a 32 x 32 thermal camera because it is a smartphone thermal imager for Android. It is probably the cheapest infrared thermal imaging system that you can buy on Amazon.
It comes with a USB-C connector as standard and a micro USB adapter.
The IR resolution is the same with 32 x 32 pixels totaling 1024 and that is backed up by a visual camera with a 0.3 megapixels image resolution. You can have them overlap at a 50% ratio and that is the only setting.
But let's look at its temperature measuring performance: It can measure a temperature range of -4°F to 572°F (-20°C to 400°C) with a sensitivity of 0.07 C (Here it fares better than the other two cameras) and a +/-3 C accuracy (Here not so much). But it does have a higher refresh rate of 9Hz.
The app can capture images and record video but it is poorly designed and needs work to fix camera detection issues and a landscape mode.
While it does have its shortcomings, this is the cheapest 32 x 32 thermal camera you can buy and also probably the cheapest thermal camera in general.
Best 80 x 60 thermal cameras to buy
The 80 x 60 resolution not only offers more than 4 times the number of pixels, but there is also more choice in terms of manufacturers. Our favorite 80 x 60 thermal cameras are:


The Flir C2 and Flir C3 which are pocket thermal cameras, even though they are discontinued, they can still be found on Amazon for a reasonable price. There are exceptional devices with Wi-fi connectivity and advanced features.


The Flir One Pro, the best thermal imager for a smartphone ever made with MSX image enhancement technology.


The Flir TG165 and Flir TG167 infrared cameras, which are handheld thermal cameras that have great customer reviews.


Which 32 x 32 thermal camera to buy?
We find that the PerfectPrime IR0001 is much better value than the Hti HT-02D and we don't think it is worth spending the extra 100$. If you need a more professional 32 x 32 thermal camera, then the Fluke VT04 might be worth considering but know that the price is much higher.
If you need a 32 x 32 smartphone thermal imager, then the PerfectPrime IR0001 is your only choice.