Because the cost of thermal imaging has been dropping significantly from year to year, if your budget is 500$ you will be happy to know you can now get a great mid-range thermal imager for this amount

We researched all thermal cameras and the list came down to 4 contenders, two from Flir Sytems, one from Seek Thermal and a low-cost option from PerfectPrime. Here is our round-up of the 4 best thermal cameras under 500$.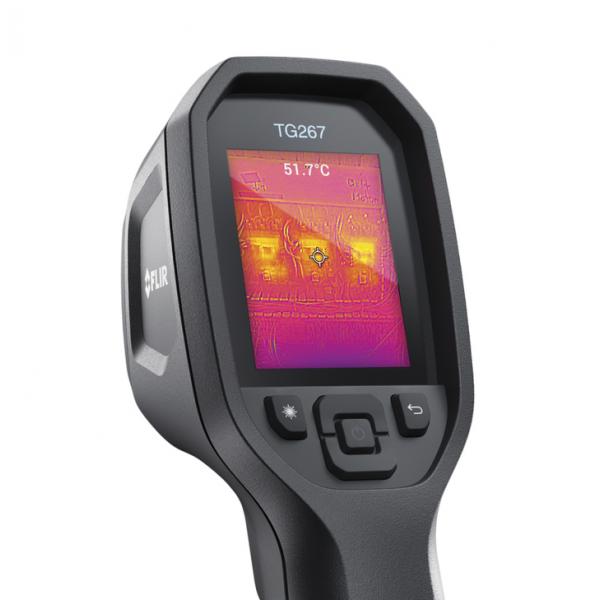 Let's have a look at each product in particular.
FLIR TG267
The Flir TG267 is clearly one of the best handheld thermal cameras under 500$ that you can buy today.
It has an infrared sensor that can capture thermal images at a 160 x 120 IR resolution. The captured image is then enhanced by blending it with one from the integrated visual camera using Flir's MSX technology. The result is impressive.
This infrared camera can be connected to your PC and phone via USB and Bluetooth (Using the Flir Tools app) and it comes with 4GB of internal storage, enough space for thousands of thermal images, since this is not a radiometric model (It doesn't store thermal data in the images for every pixel).
The TG267 has a wide temperature range from -25 to 380 Celsius with a +/-3 temperature measurement accuracy and 0.07 C thermal sensitivity.
The cool thing about this compact thermal imaging camera is that it also has a laser pointer which looks like a bullseye target so you can pinpoint the exact place that you are measuring.
With a 5-hour battery life and IP54 waterproof rating it is reliable and dependable device for heavy use.
The only thing that we don't like about this device is the temperature accuracy which should be improved. It is priced lower than some other Flir cameras and it works in reality as it should.
In terms of warranty it comes with 2 years of warranty for the entire device and 10 years for the thermal sensor if you complete the product registration process on their website.
FLIR ONE Pro
| Product | Type | Resolution | Battery capacity | Waterproof | LCD screen | Price |
| --- | --- | --- | --- | --- | --- | --- |
| FLIR ONE Pro | Smartphone (2 different versions – Android & iOS) | 160 x 120 | 45 minutes | No | Uses Smartphone screen | Click for more info |
The Flir One Pro is probably the best smartphone thermal imager that you can buy under 500$. Now smartphone thermal cameras are generally cheaper than handheld models, there are probably only 1-2 cameras that exceed the 500$ budget but that doesn't mean they skip on thermal vision quality and the Flir One Pro is the model to prove this.
It is very compact, you plug it into your Android or iOS smartphone, open the Flir One app and you are good to go. Now before you buy it you have to decide on a connector and there are 3 options: USB-C or micro USB for Android smartphones and Lightning for iPhone and iPad.
It has a built-in Infrared Sensor and a visual camera so you get the Flir's full MSX image enhancement technology.
There is no internal memory because it uses your phone's memory and the same can be said for the display, after all your phone has a much better display than you would find on handheld thermal imaging cameras.
They also fitted it with a small 350mah battery which only lasts 45 to 60 minutes, something that we don't like. We would have preferred that the camera use the phone's battery. The Seek Thermal CompactPro does that and if you read further you will understand how it works.
Its infrared thermal imaging system outputs an image with a thermal resolution of 160 x 120 pixels, 19,200 in total to be exact. It can measure any temperature that is between -20 to 400 Celsius with a thermal sensitivity of 0.07 degrees and a refresh rate of 8.7Hz.
The app works great, it has 9 color palettes to choose from (including Rainbow, Iron, Grayscale palettes and Arctic), you get dynamic points on the screen showing you where the hot spots or cold spots are and you can also measure an area to see how warm it is on average. The basic settings for emissivity, ambient temperature and locking the color scale are also there.
Another great thing about this camera is that not only does it capture photos but it also records videos in MP4 or MOV format together with time lapse. The captured images hold the temperature data for every pixel in radiometric form.
PerfectPrime IR0005
The PerfectPrime IR0005 is our third thermal camera under 500 dollars that is of a different form factor than the first two because this is a pocket thermal camera. It is also in the low-cost category and part of the new wave of infrared cameras from Chinese manufacturers that expect for the bad english in the user manuals, have been getting better.
In fact, small businesses and independent contractors that do HVAC inspections, electrical inspections or plumbing have been increasingly turning to these low-cost options because now they can essentially do the same thing for a lower price. In this case a budget of 500 USD will get you a low to mid-range camera.
The IR0005 also has an an thermal sensor and a 0.3 megapixel visible light camera for image enhancement although the technology is not as good as Flir's MSX, it looks to be a simple image overlap. Along with those it packs a high-resolution and large 3.2″ LCD display.
It can measure temperatures between -4 to 572 Fahrenheit and there only needs to be a 0.07 C temperature difference in order for the camera to pick up on it. Its temperature screening accuracy is +/-2 C.
When you are using it, it displays the temperature of the center spot but it also shows you 2 dynamic spots showing the coldest and the warmest temperatures in the pictures, too bad that it doesn't save the thermal data for every pixel in the captured image. The images are stored on a 3GB SD card which is included in the package.
Apart from the fact that the image quality is not as good as on the Flir cameras, this device is perfectly usable day-to-day.
Seek Thermal Compact PRO
The Seek Thermal CompactPro is a smartphone thermal camera also under 500$ and a direct competitor to the Flir Pro.
The differences stand in the fact that this one doesn't have an internal battery and uses the phone's battery, it does not have a visual camera and instead uses the smartphone camera with the option to adjust the image registration so the two images overlap perfectly.
It has a higher 320 x 240 image resolution providing 76,800 pixels and it has a much longer heat detection distance, up to 1800 feet away.
Thermal cameras under 400$
If your 500$ budget is no more and you have to buy something for less than 400 dollars, you can still get the Flir One Pro and Seek Thermal Compact, but not the other two cameras. However great options here are:


The Flir TG165-X handheld camera which is a newer model with a wide temperature range, MSX and most of the features we love on the TG267.


The Flir One Pro, which you just read about above.


The Seek Thermal CompactPro which we also featured in this article


Thermal cameras under 600$
If you increase your budget to more than 500$, new models are available under 600 dollars that we would recommend are:


The Fluke VT04 which is handheld device.


The Hti HT-A2, a competitor to the Flir C5.