A smartphone thermal camera is the best option if you need to use thermal imaging but you don't want to spend much on a device. These devices that attach to your phone are less expensive, have a high resolution and are very easy to use

We researched and compiled a list of 4 great thermal cameras that attach to your smartphone which are worth considering.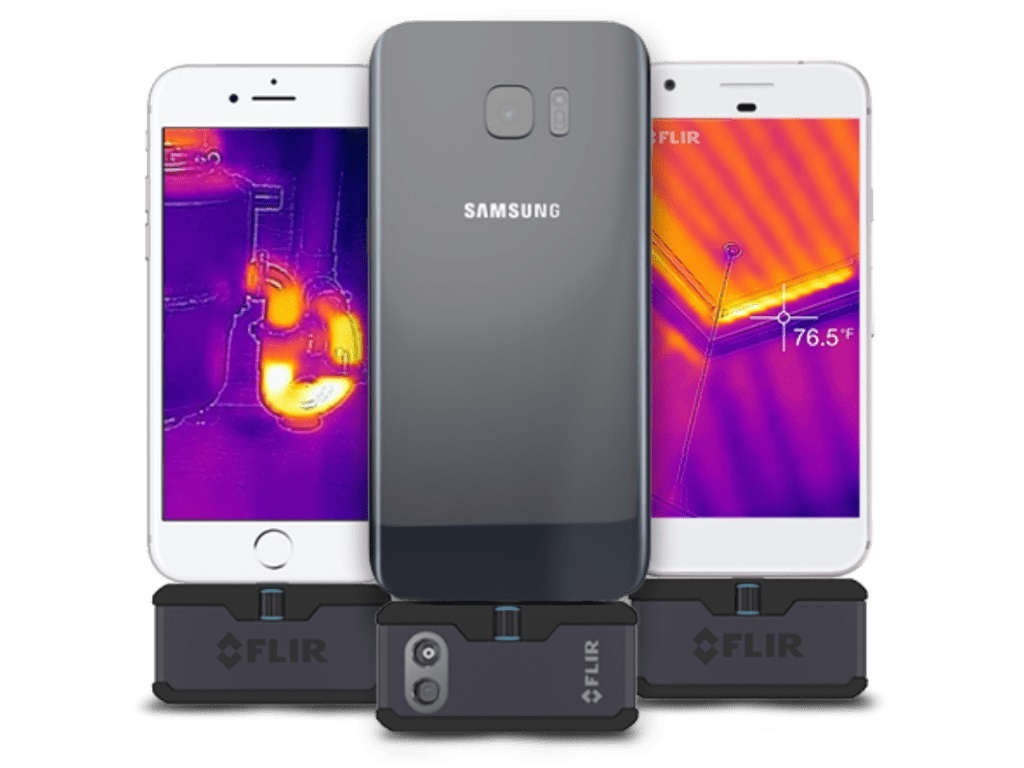 Let's have a look at each product in particular.
FLIR ONE Pro
| Product | Type | Resolution | Battery capacity | Waterproof | LCD screen | Price |
| --- | --- | --- | --- | --- | --- | --- |
| FLIR ONE Pro | Smartphone (2 different versions – Android & iOS) | 160 x 120 | 45 minutes | No | Uses Smartphone screen | Click for more info |
The first smartphone thermal camera we want to look at is the Flir One Pro. This is one of the most popular devices in its class and there are good reasons for that. It is equipped with 3 things: An infrared sensor with a 160 x 120 resolution, a 1440 x 1080 visual camera for MSX image enhancement and a small battery that should last for 45-60 minutes.
The way you use it is you attach it into your smartphone via its Android USB-C, micro USB or Lightning connector for iPhone depending on which platform you use since it is available for both Android and iOS devices. The device comes in all three versions but you will have to decide on the connector beforehand and you can't change it afterwards. You can however use an adaptor from eBay or Amazon, but do consult the list of compatible adapters beforehand as not all of them work. Then you download the smartphone app from either the Play Store or App store and you're ready to start capturing thermal images.
Its embedded thermal imaging system can measure temperatures between -4 -> 752°F( -20 to 400 C) making it the infrared camera with the widest temperature range out of the ones listed here with a thermal sensitivity of 0.07° C. The app is great, it has multiple color palettes, different image modes (MSX, Visual, Thermal-Only) and lets you adjust the emissivity and ambient temperature together with the temperature units (Fahrenheit and Celsius). The images are captured in JPG format and you can also record MP4 Video and Time lapse.
Like most Flir cameras, it comes with a 2-10 warranty, 2 for the entire infrared thermal imaging system and 10 just for the thermal sensor.
There are two other versions of this thermal camera for smartphones which differ slightly. The Flir One Gen 3 has an 80 x 60 resolutions and less app features but costs half the price and the Flir One Pro LT has the 80 x 60 pixel resolution, but the app features of the Pro and costs right in between the Pro and the standard Gen 3.
Hti HT-301
| Product | Type | Resolution | Battery capacity | Waterproof | LCD screen | Price |
| --- | --- | --- | --- | --- | --- | --- |
| Hti HT-301 | Smartphone | 384 x 288 | Uses Phone Battery | No | Uses Smartphone screen | Click for more info |
The Hti HT-301 is the smartphone thermal camera with the highest resolution out of all the ones listed here. It is only available for Android devices and it comes with a USB-C connector along with a micro USB adapter. This device will turn your smartphone into a high resolution thermal camera with a sensor that outputs a 384 x 288 thermal image, totaling 110,592 pixels. This makes it the camera with the highest resolution out of the ones listed here.
Plus, because it is built in mainland China and not in the US, it doesn't have to abide by EAR export regulations and it can achieve a 25Hz refresh rate, much higher than the 9Hz to which Flir cameras are limited to. We encourage you to check out the night vision video samples on Youtube and see for yourself, the results are impressive. When this first came out, its refresh rate was indeed unique just to the HT-301 but ever since we've had newer cameras with the same framerate. Now it also has a 0.06 C thermal sensitivity which makes it the camera with the lowest sensitivity out of the ones listed here.
What does thermal sensitivity even mean and how does it compare to thermal resolution? This is the camera's ability to detect even the slightest temperature differences. The smaller the sensitivity, the more detailed the thermal image is. Think of it a bit like image quality with digital cameras. You can have plenty of megapixels but if the sensor isn't good, you won't get any new detail in them. In the same way that a DSLR camera with less megapixels captures a much more detailed image than a point-and-shoot one with a lot of pixels and a bad sensor. You can have plenty of thermal pixels but if the sensitivity isn't there, you'll just see the same amount of detail but rendered with more pixels.
This phone attachment doesn't have a visible light camera, just the infrared sensor but it costs more than both the Seek Compact and the Flir One just because of the more powerful thermal sensor. The standard smartphone app is buggy and thus we used it with the Thermviewer app which offers more functionality and color palettes without the software bugs.
Here is our complete review of the
Hti HT-301
Seek Thermal Compact PRO
The biggest advantages of the Seek Thermal cameras is that their smartphone thermal camera modules have a higher resolution and longer detection distance. This one is no exception because its thermal image sensor outputs a 320 x 240 resolution and can detect heat signatures up to 1800 feet away putting it at a level above the Flir One's thermal camera from this point of view. The ability to measure temperatures at such distances is completely unique to the Seek Thermal Compact Pro.
But it doesn't have the MSX technology which weighs a lot in the overall quality. However, the thermal resolution is so high you most likely won't even need image overlaying. It measures temperatures from -40F° to 626°F (-40°C to 330°C) with a 0.07 sensitivity. It is not waterproof nor dustproof just like most thermal imaging cameras for smartphones. Now you need to understand that there is a difference between temperature measurement range and operating temperature range. The first represents what the camera can measure and the second represents the environment temperature in which the camera will actually start and function. You can easily measure the temperature of fire, just don't throw the camera in it.
This one is also available for iPhone and Android smartphones as a phone attachment. You can find the Seek Thermal app on both app stores and we have to say that the user interface has improved a lot, it looks much more polished and offers the adjustments that you would expect from a pro-grade thermal camera like adjusting the temperature scale, geo-tagging, emissivity and reflected temperature.
Seek Thermal Compact
The standard Seek Compact is just a low-spec version of the Seek CompactPro smartphone thermal camera, but it is mentioned here because it provides the best value out of all these smartphone thermal imagers.
Given that it has the same price as the Flir One and it delivers an image resolution of 206 x 156 with a detection distance of up to 1000 feet, we can declare this as the thermal camera for smartphones which offers the best value.
In terms of its temperature measurement abilities, it can measure anything in a thermal scope from -40 -> 626 °F (-40 to 330° C). This is a great camera to use for home inspections because it is cheap and the sensor is good enough to allow you to do simple electrical inspections for fuses that might overheat, check for plumbing leaks or do your own HVAC evaluation.
Here are the key factors to consider when buying a smartphone thermal camera


Compatibility with multiple smartphone operating systems: Some of these cameras like the Flir One Pro come in an iOS and Android version but the HT-301 is just compatible with Android devices


Thermal image quality: The more thermal pixels the better and the lower the sensitivity value, the better because it means more detail in the images.


Does it have a battery? The Flir smartphone cameras come with a built-in battery while the HT-301 and the Seek Compact ones will use your phone's battery. We prefer the latter ones.


Temperature range: The wider the better because it means you'll be able to use it to measure temperatures in more extreme situations.


The smartphone app: It matters how polished the app is and how its features work because that's your main interface between you and the thermal images. Here, we prefer the app from the Flir cameras.


Which is the best smartphone thermal camera?
In terms of image resolution, the Hti-301 has the highest thermal resolution. In terms of value for money, nothing beats the standard Seek Thermal Compact, but our overall favorite when all things are considered is the Flir One Pro. The CAT S61 and S62 have the advantage of having the thermal sensor embedded inside them which does give the feeling of a polished and complete product.
Can I use my phone as a thermal camera?
Yes, but only if you have one of these thermal cameras attached to it. Standard phones are not equipped with any kind of thermal sensors, with the exception of the CAT S61 and CAT S62 Flir and a few other models which you will find below. So you need to know that any apps which you may find on the Play Store or App Store claiming to be able to offer infrared vision are most likely not going to deliver on that promise, unless you have a physical infrared sensor attached to the phone or integrated in it.
Ok then, so how do you turn your phone into a thermal camera?
First, you will need to buy one of the smartphone thermal imagers listed here, either a Flir One Pro, Seek Compact, HT-301 or PerfectPrime IR202, which will cost between 150$ and 700$ depending on the model you choose then download the specific app for them and you are good to go. Now your smartphone has full thermal vision.
Which phone has a thermal camera bult-in?
Here is a list of phones which already have a thermal camera built into them:
The big advantage of having a smartphone with an embedded thermal camera is that not only is it with you all the time, but you don't have to always attach it and detach it plus you can have a high IP rating which most thermal camera phones do.
Manufacturers of smartphones with integrated thermal cameras have been reluctant to disclose the exact models of image sensors that they are using but if you do some research you can find the exact model, usually based on the specs.
This guide was written by Kenneth, who is our thermal camera specialist here at Industrial Reviews.