We selected 5 wildlife thermal cameras that will help you if you are scouting, hunting or just have an interest in wild animals. We chose 4 different types of cameras because each one has their pros and cons in terms of their form factor and let you find out which is the right one for you

Everything has been taken into account from image resolution to software features. Here is our review and comparison table of the best thermal cameras for wildlife: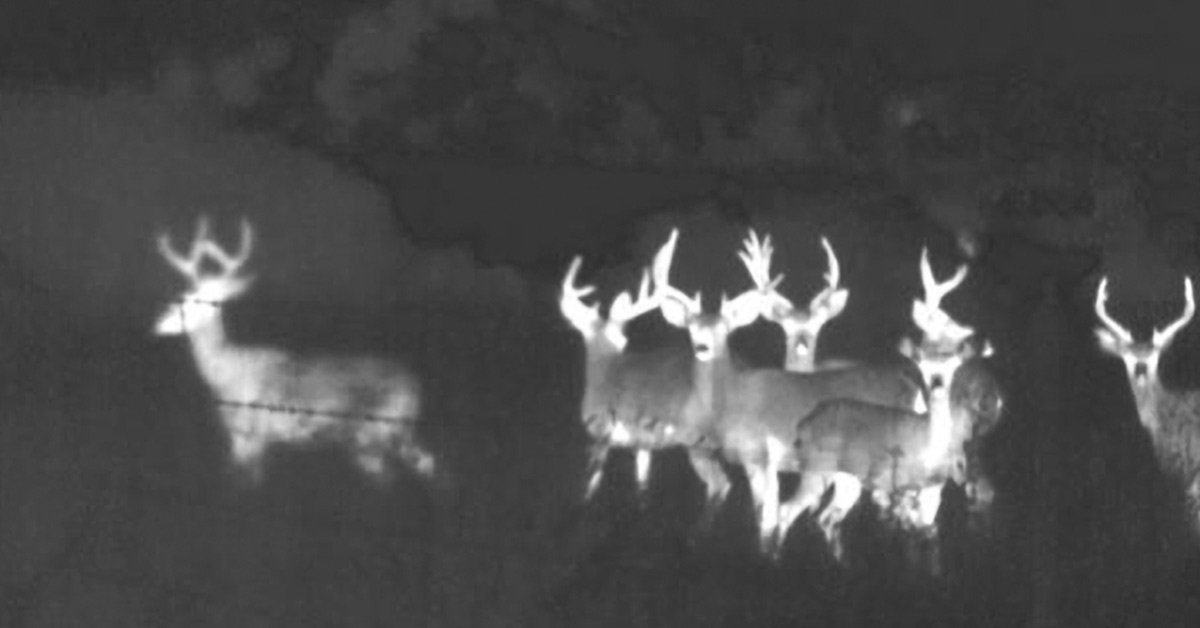 Let's have a look at each product in particular.
Seek Thermal Revealpro
The Seek Thermal RevealPro is a great thermal imaging camera for wildlife because it can detect heat at up to 1800 feet. That means when you're out in the wild, in a park or forest you can spot a moose or deer just by its heat signature. It is a tool that conservationists and people who are interested in studying biodiversity can use. Of course, this also applies to hunting as you can easily spot animals in the wild especially when things get dark at night.
Because the IR resolution is really high at 320 x 240 pixels, it can also zoom in on things using its optical zoom feature, provided it is quite a handful to use. In total, the thermal camera offers up 76,800 thermal pixels through its IR sensor. Sure, it doesn't have a visual camera to blend the images, but the infrared resolution itself is so high that it almost doesn't need one.
Something that we think will come in very handy when trying to spot wildlife is its 15Hz refresh rate. You see, most thermal cameras are limited to a 9Hz frame rate and not because of the technology itself, but because of EAR export regulations in the US. Sometimes manufacturers create models that go past those limitations like in this instance.
This handheld thermal imager's 4-hour battery comes in handy too because it provides you with plenty of usage time if you carry it with you on a trip. And if you do have to recharge, you can do so from a power bank via micro USB cable. There is no bluetooth connectivity, so you also need to download your photos via the USB cable.
It can measure a wide range of temperatures from -40°F to 626°F (-40°C to 330°C) with a thermal sensitivity of 0.05 C, but spotting animals in the wild won't require anywhere near its full range.
It can capture thermal images in PNG format together with all the radiometric thermal data for each pixel, allowing you to adjust the image later on your computer and do things like changing the color palette or changing the temperature scale. It doesn't have a memory card, instead it uses the 4GB internal memory to store at least 4000 thermal images in that format.
The LCD Display is a bit too small at just 2.4″, we would have preferred a larger display.
FLIR Scout TK
The Flir Scout TK is a thermal imaging camera for use in spotting wildlife that is mainly used by hunters to spot reindeers, wild boars and birds in the wild. This is a thermal monocular, a very different form factor as you can see from its picture.
It was designed from the ground up with this application in mind and that is why for example its temperature measurement range spans from -4°F to 104°F (-20°C to 40°C).
This infrared thermal imaging system has an infrared sensor that provides a high thermal resolution of 160 x 120 and a 295 feet detection range. There is no visible light camera here either, this being a monocular. Because of its lens system, it has a very narrow field of view compared to the RevealPro of just 20 x 16.
Two great features built into it are the ability to capture photo and record video. This doesn't have to be a tool for hunting, it can also be of great use to people who are interested or working to preserve and study wildlife in their natural habitat, workers who protect animals and have to look out for them from time to time in their natural environment. With this tool they can gather important data about the behavior of the animals.
The rechargeable battery built inside this night vision monocular provides you with a 5-hour battery life which should be more than enough for 1-2 days of intensive use. The LCD screen built inside it has a display resolution of 640 x 480 pixels and that matters because you will be looking at it from up close.
This being a Flir camera, it is subject to the Flir Systems warranty policy which provides a 10-year warranty for the thermal vision sensor once you've completed the product registration process. The entire enclosure has an IP66 waterproof design, you can drop it in water and it should still function.
The Scout TK together with the Flir Scout III thermal imaging monocular are part of a larger line up of Flir thermal cameras for hunting, detecting games and spotting deers in the wild. Solid alternatives to the Scout TK that are suited to wildlife watching are the Leupold LTO and the AGM Global Vision Asp-Micro with 4x digital zoom.
Hti HT-301
| Product | Type | Resolution | Battery capacity | Waterproof | LCD screen | Price |
| --- | --- | --- | --- | --- | --- | --- |
| Hti HT-301 | Smartphone | 384 x 288 | Uses Phone Battery | No | Uses Smartphone screen | Click for more info |
The Hti-301 is another interesting thermal imaging camera for wildlife. This one is a smartphone attachment that works on Android phones. It has a USB-C connector and comes with a micro USB adapter in the package.
You can use it for outdoor recreation, hobbies like birding and it will spot wild animals just as well as the other cameras.
The reason we chose the Hti HT-301 is because of its very high infrared resolution of 384 x 288 pixels. To put things in perspective, it has more than 5 times the thermal sensor resolution of a Flir Scout TK. You can zoom in on details much better than you could with other cameras. And since it is easy to carry you can always have it with you when the occasion should present itself.
Another strong point is that it captures images and renders them on the color display screen at a 25Hz refresh rate, the smoothest framerate you will find in consumer thermal imaging cameras and that is why videos recorded with this camera are on a different level. When you set it to the right color palette, this camera is like a full night vision device.
Its detection and temperature screening capabilities are strong too, it can measure a temperature range from -4° to 752 degrees Fahrenheit (-20 °C to +400 ° Celsius) with the ability to react to a 0.06 C temperature difference in hot spots. People actually use these to inspect electrical PCB boards to find the warmest and coldest chips on the board or ones which might overheat. This device is more advanced than most Hti xintai handheld thermal cameras.
We recommend you use this camera with the ThermViewer app rather than the standard app it comes with. It works better and provides all the settings and adjustments that you need like emissivity or reflected temperature.
Seek Thermal Compact PRO
The Seek Thermal CompactPro is also a thermal imaging camera for wildlife that plugs into your smartphone.
The idea with the Compact Pro is that you get the features and performance of the Seek Reveal Pro in a smaller and cheaper device that attaches to your phone. It can detect heat at up to 1800 feet away just like the handheld infrared cameras. And this is not just a game hunting camera or a trail camera, because it can perform other functions too: You can use it for the HVAC system, diagnose electrical circuits or to perform a building inspection
The thermal scope of this thermal vision camera extends from -40F° to 626°F (-40°C to 330°C), just remember that this is not the same as the operating temperature, so don't expose it to high temperatures. As a rule of thumb, anything above skin temperature might be an issue.
Like the Hti, it has the advantage that it can always be with you since it is so small, you can easily have it in your pocket at all times. So when you find yourself outdoor in nature and you want to spot any critters or animals roaming around the forest, you just plug it in and have a look.
You also get the phone's full connectivity with wifi and bluetooth, so it makes it easy to share thermal images. The main competitors to this wildlife camera are the Flir One Gen 3 and Pro models, their main disadvantage being the low battery timing.
Parrot Anafi 4K Thermal Drone
The Parrot Anafi 4K is a thermal imaging drone that is great at spotting wildlife from above. Because of its form factor, it allows you to look at wildlife without even being there or putting yourself in any kind of danger.
If you want to have a closer look at a wild boar, a bear or wolves you can do so from above at a safe distance. This is something that you can't always do with handheld thermal IR cameras. While the flight time may vary, you should expect an operation time of about 25 minutes from the lithium-ion batteries.
It can spot heat patterns up to 1000 feet away and if that's not enough for you, then you just fly it closer. It can record 4K video because it also has a high resolution visual camera. All the images and videos are stored on a micro SD card.
As for the infrared sensor, it has a 160 x 120 thermal resolution, but don't be discouraged because it blends the two images together and the result looks great. The objects and edges are sharp and clearly distinguishable while the heat patterns are nicely overlapped and aligned.
The disadvantage of using a drone would probably be the reliance on good weather conditions in order to do wildlife observation.
Which wildlife thermal camera should I use?
There are a number of approaches to this matter.

The Flir Scout TK handheld thermal monocular is definitely one of the best choices because it was built specifically for that. It has the necessary zoom and its form factor is well suited for the outdoors.

The Parrot Anafi 4K Thermal Drone is a more expensive tool but it can provide you with a viewing angle that you simply can't get on the ground. It also has a 4K camera.

The Seek Thermal Reveal Pro is a more versatile device because while the first two are great for wildlife, you can't really use them for HVAC inspections, plumbing or electrical inspections. So this device will be much more practical while being able to spot wildlife to an extent.

The Compact Pro and Ht-301 are great if you are an enthusiast and you want to use it occasionally for different purposes.

So depending on what kind of user you are, one of these will be your best choice.

You may have read up on the Campark Trail Camera No Glow Infrared Night Vision. That is not really a thermal camera like the ones we listed here but it can help with wildlife in night detection.