These are the best thermal infrared cameras for iPhone. There are no other cameras on the market that can beat them. We selected 4 models from which you can choose and we also explain what each camera does best and how you can use it

Thermal cameras for iPhones are a great and cheap alternative to handheld thermal imaging cameras, especially for the home user

Here is our review and comparison table: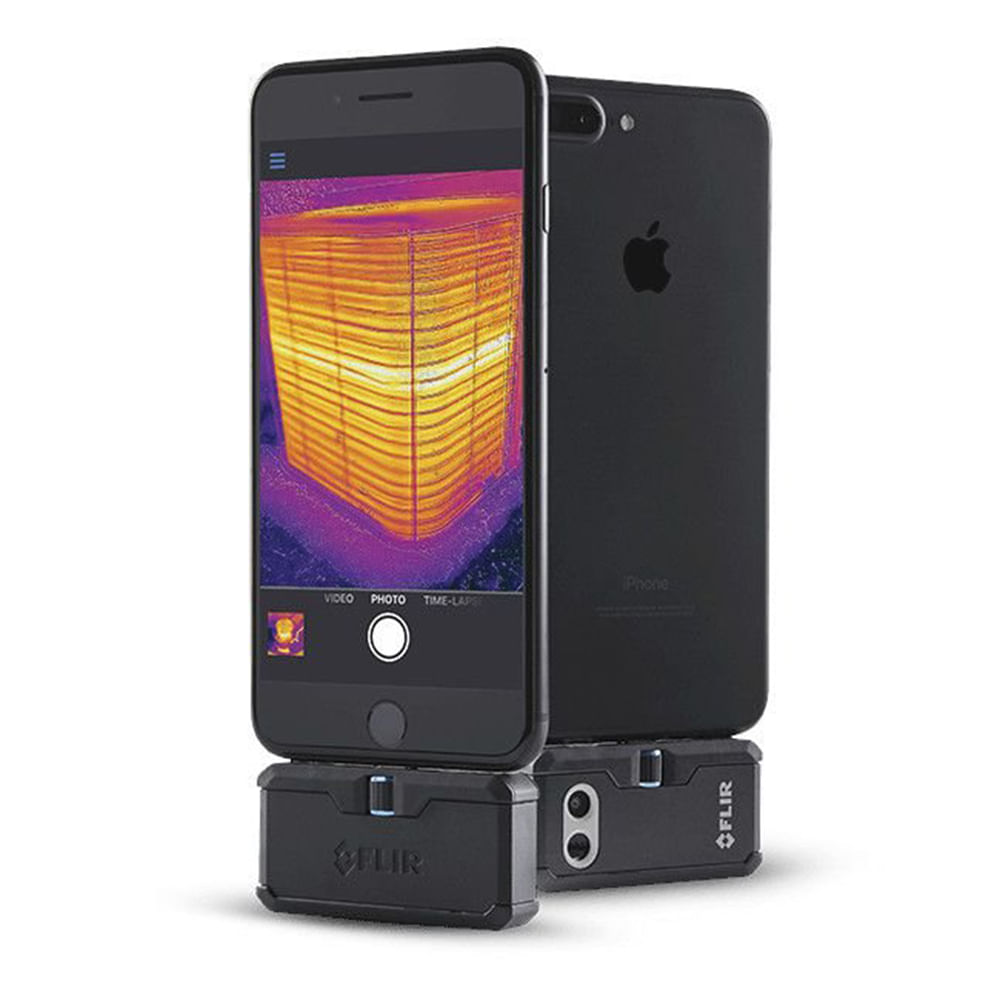 Let's have a look at each product in particular.
FLIR ONE Pro
| Product | Type | Resolution | Battery capacity | Waterproof | LCD screen | Price |
| --- | --- | --- | --- | --- | --- | --- |
| FLIR ONE Pro | Smartphone (2 different versions – Android & iOS) | 160 x 120 | 45 minutes | No | Uses Smartphone screen | Click for more info |
The first thermal infrared camera for iPhone and iPad that we are going to be reviewing is the Flir One Pro, one of the bestselling iPhone thermal cameras in the world.
You can buy it in 3 versions, but we will focus on the iOS version that has a lightning port. It is really easy to get it running on your iPhone, you just connect it to your smartphone and download the Flir One App from the App Store and you can start capturing thermal images. The app is compatible with most of the iPhone versions, including iPhone 8, X, XR & XS.
The Flir One Pro thermal camera only has the core components of an infrared camera: An infrared sensor with a 160 x 120 IR resolution, a small visual camera for MSX image enhancement and a 350mah battery. For the rest of the components like the color display screen or the internal memory and SD Card it uses the phone's display and storage, so all the images and video are stored directly on your iPhone.
This iPhone thermal camera has a very wide temperature measurement range (high-low temperature) that spans between -4 and 752° Fahrenheit( -20 to 400 Celsius). It is also very reactive to temperature changes as it can react to only a 0.07° C temperature difference.
In terms of image quality, the pictures look great because the Flir MSX technology does its job flawlessly. If you are to get the Flir One Pro over the Seek Thermal Compact Pro it would have to be for the MSX technology and the great iPhone app, because the CompactPro has the higher thermal resolution.
The thermal images are captured in JPG format together with the 14-bit radiometric temperature data for each of its 19,200 pixels. This can be very useful because you can inspect them afterwards, measure any spot in the image, but also change color palettes or adjust the temperature scale the way you want it.
Now the only thing we are not content with is the decision to put a battery in it when they could have easily made it use the phone's battery just like Seek Thermal and Hti do. The problem is that it only has a 45 minute battery life and it has been a bit of a problem for its users.
You may have noticed a dial on the device, that is not for manual focus of the thermal sensor but it is actually for the adjustable connector to adjust its height so that it fits in the USB port. This camera for iOS devices provides better resolution than the compact thermal imaging cameras like the Flir C2 or Flir C3 for a lower price. So why would you buy a Flir TG267 which is more expensive instead of this? Well the One Pro is not waterproof and the battery life is shorter than the one on handheld thermal cameras, plus they have their own memory cards. That is why home inspectors usually choose to buy a standalone device together with a moisture meter and IR thermometers instead of a thermal camera for androids and iPhones.
FLIR ONE Gen 3
| Product | Type | Resolution | Battery capacity | Waterproof | LCD screen | Price |
| --- | --- | --- | --- | --- | --- | --- |
| FLIR ONE Gen 3 | Smartphone (2 different versions – Android & iOS) | 80 x 60 | 45 minutes | No | No | Click for more info |
The Flir One Gen 3 is also a thermal camera for iPhone and basically a toned-down and much cheaper version of the Flir One Pro.
It is very similar to the One Pro, it attaches to your iPhone via the Lightning port, you download the same Flir One app from the App store, however it has limited functionality. For example probably its biggest feature that it is missing is the fact that you can't switch between image modes and you can only view in MSX mode, you can't access just the image coming from the visible light camera.
But that's not necessarily an issue since MSX is the preferred way to view for most users, that is one of the main reasons that people choose the Flir cameras for their iPhone instead of the Seek Thermal ones.
But it is limited in other ways too, for example the image resolution on its thermal vision sensor is much lower at 80 x 60 totaling just 4800 thermal pixels. It's heat detection and temperature screening capabilities are lower too because it can only measure hot spots within a temperature range from -4 -> 248 °F (-20 to 120° C) with a 0.15 thermal sensitivity.
It has the same small battery and 2-10 warranty plan offered by Flir Systems for all of their infrared cameras (2 for the entire camera and 10 for just the thermal imaging system). The 2-10 plan is activated once you complete product registration within 60 days of purchase.
But here is the catch: This camera costs half as much as the One Pro, so you can't not take that into consideration.
FLIR ONE PRO LT
| Product | Type | Resolution | Battery capacity | Waterproof | LCD screen | Price |
| --- | --- | --- | --- | --- | --- | --- |
| FLIR ONE PRO LT | Smartphone (2 different versions – Android & iOS) | 80 x 60 | 1 hour | No | Uses Smartphone screen | Click for more info |
The Flir One Pro LT iOS is a great infrared camera for iPhone, however it doesn't really provide the best value and we will explain why.
First of all, this iPhone thermal camera works in the same way as the other two and is available for Android as well as for iPhone. You plug it into your iPhone or iPad, download the app from the store and you're good to go.
Now, it is named as "Pro" but that can be misleading because actually doesn't have the hardware of the Pro, it is a standard Flir One Gen 3 with a slightly better thermal sensitivity and all the features of the Flir One Pro app. What you do not get is that higher 160 x 120 resolution and that as you can see in our main picture, is a game changer. You get the same 9Hz refresh rate in the Flir One's thermal camera line-up, because EAR regulations limit these devices to this frame rate.
Now you need to ask yourself: Is this thermal camera for smartphones worth 100$ more than the standard Flir One Gen 3? We think not really, because as a developer I know that Flir could have provided the full features of the Pro app for the standard Gen 3, so it feels like more of a marketing move. The Gen 3 is good enough for simple home inspections, it measures temperatures fairly accurately and provides better value.
Seek Thermal Compact PRO
The Seek Thermal Compact Pro is a different approach to a thermal camera attachment for iPhone.
The way it works is similar, there are 3 different versions of connectors (micro USB, Android USB-C and Lightning, but we'll be focusing only on the iPhone version here). You can place it anyhwere using a USB cable extension but it has to be compatible. To use it, you plug it into the phone, download the Seek Thermal app from the iOS app store and you can start capturing thermal images. It is also compatible with iPhone 10, 11, 8, iPhone SE and other models.
The iPhone app allows you to capture images and also record video together with offering the option to adjust emissivity and reflected temperature. It is simple to use, you don't need a user manual to start capturing images.
As we stated before, it works differently because it only has an infrared sensor built-in, there is no battery or visual camera and that is because it uses the smartphone's resources.
This infrared thermal imaging camera has two very strong points: The first is its 320 x 240 thermal resolution with which you probably won't even need MSX because you get 76,800 pixels in the image. The second big advantage is the fact that it can detect warm and cold areas up to 1800 feet away, just like the Seek Thermal Revealpro. This is something that you won't usually find in an all-purpose IR thermal imaging camera. The Flir doesn't even get close to 300 feet and this is the kind of detection distance that you would get from thermal scopes like the Flir Scout TK or the Leupold LTO Quest.
These features make it an all-purpose thermal imaging camera and open it up to a range of applications that extend beyond the usual HVAC inspection, plumbing, reducing energy loss, roofing or electrical inspections for fuses that overheat. You can use it as a night vision device, to spot wildlife in the distance or inspect tiny chips on PCB boards.
The Seek Thermal CompactPro can measure anything in a temperature range from -40F° to 626°F (-40°C to 330°C). One bonus is that it comes with a waterproof carrying case and the Flir cameras don't, but you can find cases for those on Amazon and eBay.
There is also a low-cost version of this thermal inspection camera, the standard Seek Compact which costs 50% less but has a lower resolution.
Which thermal camera is best for my iPhone
Our choice is between either the Flir One Pro or the Seek Thermal Compact Pro. Both have their strong points, the Flir One Pro has the MSX technology and great iPhone app while the Seek Thermal has the high infrared resolution and the 1800 feet detection distance.

If you are on a budget, then the Flir One Gen 3 will provide fantastic value for money.