If you are looking for a thermal video camera, you'll be glad to know there are several options under 1000$ but not many. We selected the 5 best thermal cameras with a video recording function and we took an in-depth look on each of them

Everything is taken into account from the thermal resolution, video quality to the software features and ease of use.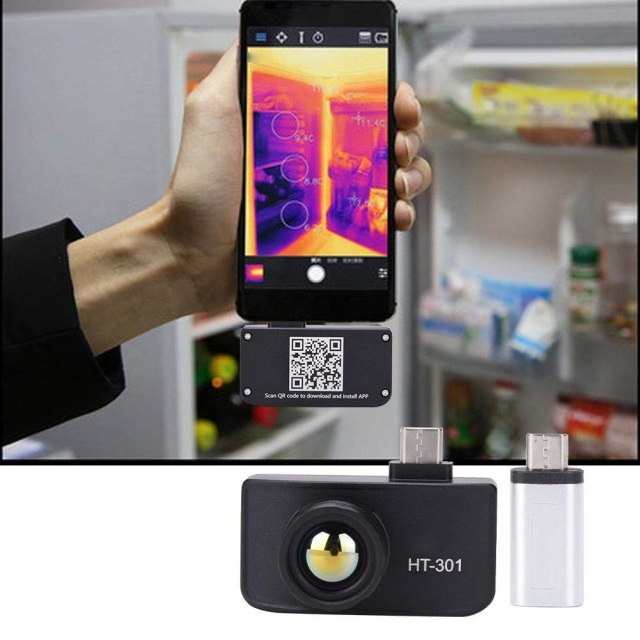 Let's have a look at each product in particular.
FLIR ONE Pro
| Product | Type | Resolution | Battery capacity | Waterproof | LCD screen | Price |
| --- | --- | --- | --- | --- | --- | --- |
| FLIR ONE Pro | Smartphone (2 different versions – Android & iOS) | 160 x 120 | 45 minutes | No | Uses Smartphone screen | Click for more info |
The first thermal video camera we'll be looking at is the Flir One Pro. This, like several of the cameras we'll be featuring in this article is a thermal imaging camera for smartphones. Basically the camera module only has a thermal camera, a visual camera and a little battery that lasts for 45 minutes. There is no screen and no storage as it uses those components that you already have in your phone.
Let's have a look at its temperature measurement abilities: It can measure any object in a temperature range from -4 to 752°F( -20 to 400 C) with a 0.07 C thermal sensitivity.
To use the camera, you just download the Flir One App from the Play Store or App store, connect the thermal imager camera to the smartphone and you can start recording thermal video and also take pictures or timelapse. The IR resolution is 160 x 120 but it also uses MSX image enhancement to blend the thermal layer with the one from the visible light camera which has a 1440 x 1080 resolution. The videos are exported in MP4 format, but do not contain radiometric data. However in the case of photo capture, the camera measures temperatures for each pixel in the image and stores them.
Flir Systems offers an extended 10 year warranty for the infrared sensor if you complete the product registration process.
Hti HT-301
| Product | Type | Resolution | Battery capacity | Waterproof | LCD screen | Price |
| --- | --- | --- | --- | --- | --- | --- |
| Hti HT-301 | Smartphone | 384 x 288 | Uses Phone Battery | No | Uses Smartphone screen | Click for more info |
The Hti HT-301 is a high resolution thermal video camera that you can plug into Android smartphones. It has the highest resolution out of all the thermal imaging systems that we listed here. Its infrared optical assemblies can output a 384 x 288 resolution, totaling 110,592 thermal pixels.
Not only that but it has a wide thermal scope from -4°F to 752°F (-20 °C to +400 °C) and it can sense a temperature difference as low as 0.06 C with a +/-3° C accuracy. Another big advantage that this infrared video camera has is that it has a 25Hz refresh rate because it is not limited by any type of regulation. This makes for much smoother videos and if you check out the samples on youtube, you'll notice that they are considerably better than what you would get with other infrared imagers.
It is more expensive than the Flir and the Seek Compact, but it does have the resolution and the video frame rate and this makes it our favorite thermal video camera. The standard app isn't very good and that is why we recommend you use it with the Thermview app which can record video and capture photos with a host of features and adjustments.
You can read more about the
HT-301
in our in-depth review.
Seek Thermal Compact PRO
The Seek Thermal CompactPro thermal video camera is similar to the other devices that we've listed here, but it costs the same as the Flir and offers a much higher 320 x 240 thermal resolution. Plus, it benefits from Seek Thermal's FastFrame technology which increases the refresh rate from 9Hz to 15 Hz for smoother video, however there is a certain grey area as yet we do not understand exactly how it fits into the whole export issue. Some users have even claimed to somehow record 30 FPS video but those claims have not been verified and video framerate can be improved through simple interpolation.
This is basically the Seek Thermal RevealPro but stripped down to a small sensor that you can plug into a phone because along with the FastFrame technology it can also detect heat patterns up to 1800 feet away in a temperature range from -40F° to 626°F (-40°C to 330°C) with a 0.07 C sensitivity. Another great feature is the adjustable focus lens to help you precisely focus the camera at long distances.
The Seek Thermal app that you use to control the camera, has the option to record video and capture photos, but does not record time lapse video like the Flir app. The videos are stored in MP4 format and you can change the aspect ratio, too.
Parrot Anafi 4K Thermal Drone
The Parrot Anafi is a drone which has a thermal video camera mounted on it along with a Flir Lepton 3.5 thermal vision sensor. This sensor can capture thermal images at a 160 x 120 resolution together with the radiometric thermal data inside them. Now the temperature accuracy is not the best, with a +/-5°C accuracy but this is understandable given that it is measuring the heat of the objects from a long distance. It can measure and detect heat patterns at up to 1000 feet away.
The temperature measurement range spans from 14°F to 752°F (-10°C to 400°C), it can store photos and videos on an SD Card and its battery life is 25 minutes, but you can also get spare batteries. Just be aware that when you shoot video in visual mode, the resolution is 4K UHD with a high framerate, but when you switch to the thermal image or MSX mode, then the video framerate will drop to 9 Hz and so will the resolution. But the thermal camcorder that is mounted on it is perfectly stabilized and much better in terms of image quality than any of the handheld devices.
Unmanned aerial systems like this one can record video and capture photos with a thermal layer and give you a completely new perspective. You can use them to inspect roofs, solar panels or just to spot wildlife or detect fires.
Which thermal video camera should I choose?
As a handheld device, if you want the best video quality and smoothness then the Hti-301 should be the thermal video camera of your choice. If you want a different angle or perspective, then the Parrot ANAFI can be a great thermal video drone, but that is for when you have a specific application for it.


Why is the frame rate of the videos limited to 9Hz on most thermal cameras?
Thermal video cameras that are produced in the US need to be limited to a refresh rate of 9Hz because of EAR export regulations. Presumably this was done in order for manufacturers not to build cameras that can have military applications (Ex. night vision). This applies to large manufacturers like Flir and Seek Thermal, but not to the Hti cameras which are built in China.


Why wasn't the Flir E8-XT or Flir C5 included in the thermal video camera list?
This is because the E-series cameras including the Flir E8-XT, E6-XT and E5-XT along with the Flir C5 and Flir C3-X are not thermal video cameras, they only allow for video streaming via the USB port, so they are capable of video output but not recording. Of course, with a bit of 3rd party software you can record the video stream from the thermographic camera.


What about the Flir EST Thermal Screening Solution?
The professional skin temperature screening solutions for health and safety are capable of recording video, provided the camera you install on them can (example: Flir E96). But remember that these monitoring systems were not created for video recording, they were created to just monitor body temperature so that when a person with elevated skin temperature enters its field of view, it triggers an alarm. They are also great for people flow intelligence (Basically people counting).