The Wissenergy EV charger is a home charging station which can deliver decent charging speeds, is IP66 waterproof rated and comes with an intelligent touchscreen, reducing the need for a smartphone app.

PROS: Good charging speed, very low price, integrated touchscreen, IP66 waterproof.

CONS: Cable is a bit short.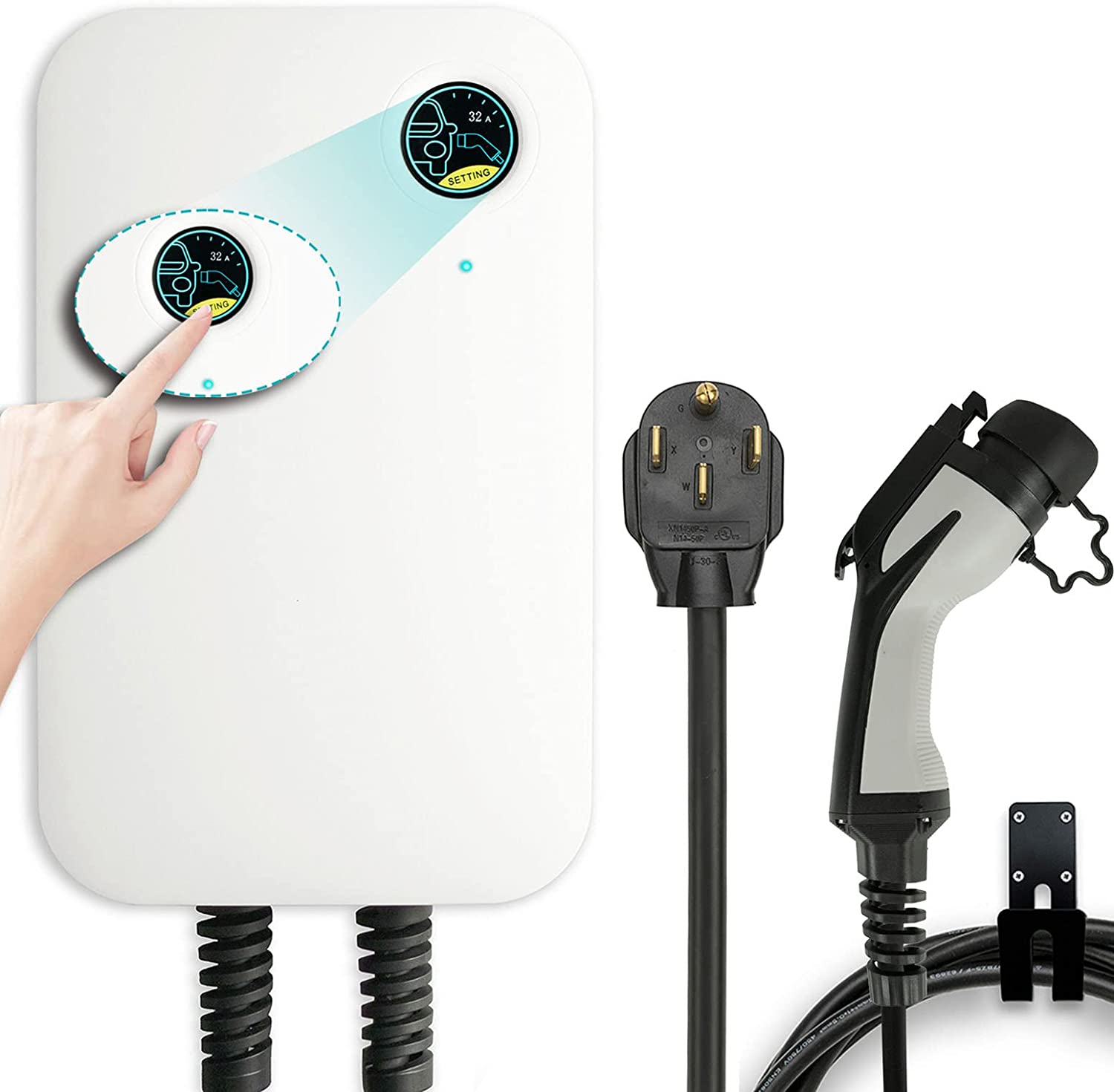 WISSENERGY – EV Charging Station (32 Amp) Specifications
| | |
| --- | --- |
| Amp rating | 32-Amp |
| Level | Level 2 |
| Type | EV Charging Station |
| Cable Length | 20 feet |
| Nema | NEMA 14-50 |
| Power | 7.2 kW |
| Voltage | 240V |
| Connector | Type 1 (J1772) |
| Connectivity | No |
| IP Rating | IP66 |
| Display | LCD Touchscreen |
| Warranty | 2 |
| Features | |
| What's in the box | |
| Weight | 14.17 lbs |
WISSENERGY – EV Charging Station (32 Amp) Charging specifications
One of the first things that you'll notice is completely new about this electric vehicle charging station is that it has an LCD touchscreen mounted directly on the control box. This is a very interesting approach and the idea behind it is that instead of having to connect to it via wifi with your smartphone to set up charging schedules and monitor real-time charging data, you just use the touchscreen. It is faster and easier to use.
Now let's look at the ev charging station itself because this unit can deliver up to 32 Amps of current and thus 7.2 kW of power to your electric car. To put that into perspective, to fully charge a Tesla Model 3 with a 60 kWh battery from 20% to 100%, it would take about 7-8 hours. So if you come home in the evening with just 20% left, by the time you wake up in the morning the car is fully charged and ready to go.
WISSENERGY – EV Charging Station (32 Amp) Cable types and connectors
Now let's look at the cables and connectors. So the electric vehicle charging cable is 20 feet long which is on the short side a bit since most chargers will offer a 25 ft. long cable. Still, the price on this charging station is very low, so you need to take that into consideration. When you plug it into your home circuit, you need to have a NEMA 14-50 outlet. If you don't have one, a licensed electrician can install that for you and the EV charger. Don't want to install an outlet? You can just hardwire it to your home circuit. Just make sure to upgrade the fuse on the panel to at least 40 Amps.
The cable uses an SAE J1772 ev plug, so no problems there because it is compatible with any EV made in North America including Tesla vehicles which although they use their own proprietary port, they will come with a J1772 adapter.
The rubber protective rings are a welcome addition because they help to not tear the cable after heavy usage.
WISSENERGY – EV Charging Station (32 Amp) Features
Now this may not have any kind of connectivity, but it does make up for it with that intelligent touchscreen. It allows you set a charging timer so that you can delay the charging as much as needed to get it to charge when electricity is cheaper in the middle of the night. It can also tell you the battery charge level, the amperage at which it is working, how much actual power is being delivered to the vehicle and the temperature of the unit.
The entire unit is IP66 so it is guaranteed to keep charging even when it rains or snows. You can easily mount the unit outside and have it charge your car throughout the entire year. This whole electric car charger feels quite solid and sturdy.